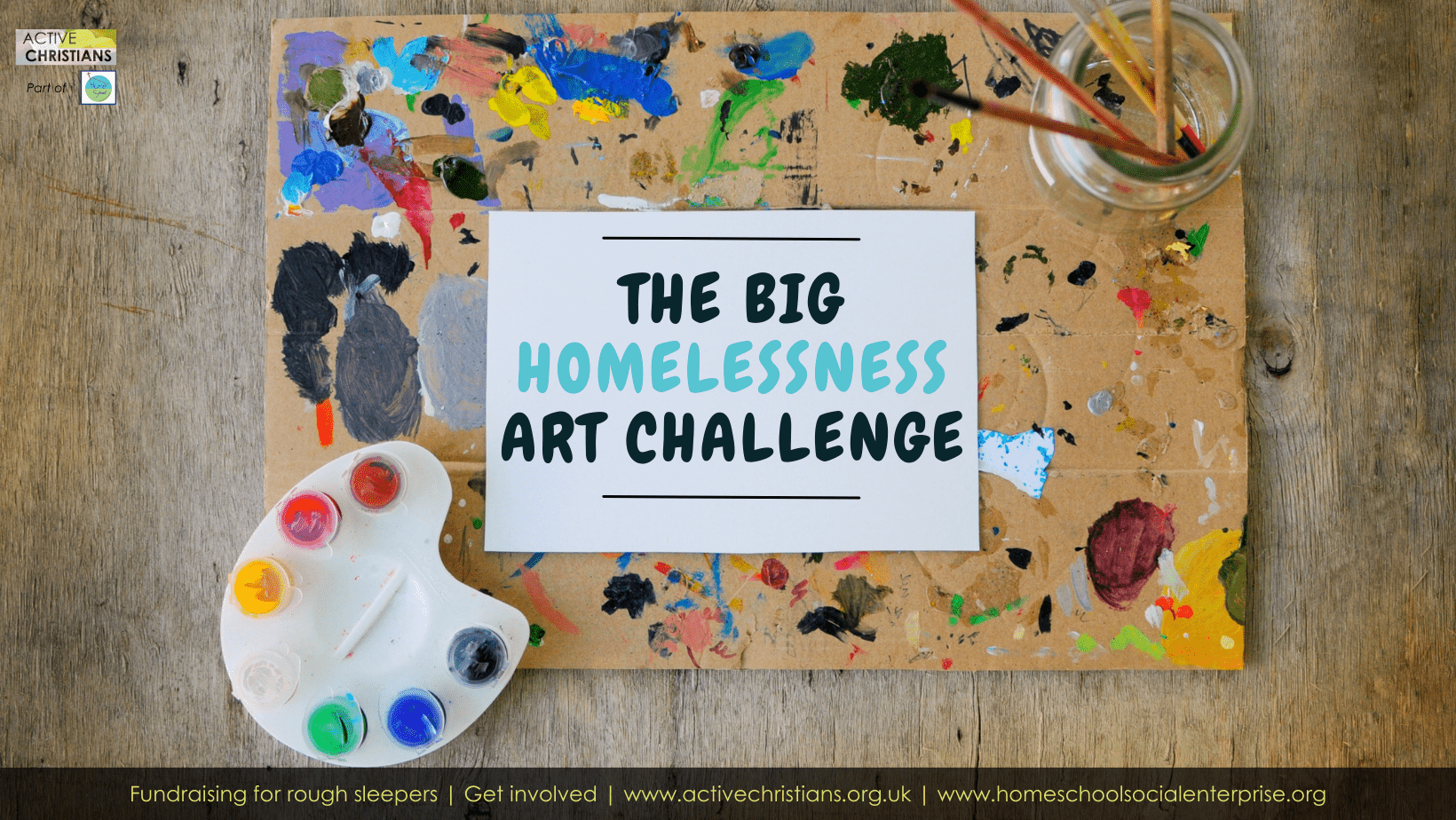 THANK YOU FOR THE FUNDS DONATED SO FAR!
THE CHALLENGE IS ALMOST OVER, BUT WE WILL STILL BE FUNDRAISING HERE UNTIL WE REACH OUR GOAL

The Big Homelessness Art Challenge is an initiative set up to raise funds and spread the word about our Wellbeing Centre Project.
We (Homeschool Social Enterprise/Active Christians) are raising funds to open up a Wellbeing Centre in the heart of Birmingham to help tackle the rough sleeping crisis.
We aim to raise £100,000 by June 2023 and we need YOUR help.


We are calling upon anyone and everyone to FUNdraise with us! We know £100,000 is a large goal and so we need your help to make it happen.
We would be thrilled if you could help us by doing at least one of the following:

1. Become a FUNdraising Champion

2. Donate directly to The Wellbeing Centre Project


Do you have the passion to raise money for our cause?

Get involved by becoming a FUNdraising Champion!
How it works
Step 1. Set up a fundraiser here
(It only takes a few minutes and we even have a template of answers you can use to complete the form. Click here). Once you have submitted the information you can share your fundraising page with people within your network.
Step 2. Share your fundraiser
Share the link of your newly created fundraising page to people within your network (family, friends, colleagues, neighbours, people within your community, email list, social media connections etc) - use the hashtags in the useful info list below when sharing to social media.
Step 3. Create!

Set a deadline to create your artwork anytime before 31st May 2023

Gather the resources you need to make it (this could be things you already have at home)

Create a piece of art that represents homelessness. Create it in a format that challenges you but also one that you are happy to do. (Here are some examples: A drawing, painting, photoshoot, lego formation, playdough sculpture, clay sculpture, song, picture book, dance sequence, drama skit, creative video, poem, knitted hat, invention. You name it! You can keep it simple or produce a masterpiece, it's completely up to you!)

Once it's completed, take pictures/videos and share your creation online or in person (i.e. to a live audience) to update your network on how you did.
If you share your work with us, we will share it far and wide! (If you want us to of course)


USEFUL INFO
Challenge yourself
Select an art form that challenges you. The people within your network are likely to know what you're usually capable of, so use this challenge to WOW them. You never know... This might awaken a zone of genius that you never knew you had! Also by putting your creative skills to the test, people may also be willing to give more to this great cause.

Use hashtags
If you share to Social Media, please help us identify your participation in the challenge by copying and pasting the following hashtags:
#tbhacbrum #thebighomelessnessartchallenge #heartforthehomeless #endroughsleepinginbrum #homelessbirmingham #activechristians #homeless #homelessness #birminghamuk #westmidlands
and feel free to use any others that you think are relevant.
Don't like art?
No worries! Complete an activity of your choice. The main thing is to ask people to sponsor you for something you will do as a commitment. Take a look at our list of other ideas:
Other ideas
If art is not your thing then why not try a sponsored...
walk, swim, bike ride, bake sale, car boot sale, quiz, afternoon tea, car wash, decorating session, games night, fashion show, kick a habit, talent show... You name it!
There's plenty more sponsorship ideas you can do to raise money for our campaign.
Don't feel confident about your art skills?
Don't worry about how skilled you are, it's about taking part, having FUN and raising funds while doing it. But if you really don't want to produce art then see our list of 'other ideas' above.
Who can get involve?
Absolutely anyone. Anyone can participate in this campaign. Under 18s must receive parental consent and minors must be supervised by their guardians throughout the process.
Deadline
All artwork should be completed by Wednesday 31st May 2023.
We will also be hosting an auction to sell off any artwork and goods that are donated to us. More details on that to follow.
Terms and Conditions
All participants take part in this fundraiser at their own risk. Homeschool Social Enterprise/Active Christians shall not be liable for any injury or loss to persons or their property that might occur as a result of your or their participation in or attendance at any event connected to this campaign. Nothing in this clause shall exclude or limit our liability for any liability that cannot be excluded or limited by law.


Share this page with others!
And whatever you do, don't forget to have FUN!
Thank you for your attention